Projects of the organisation of European Castles
The European Castles Institute is working continuously on the main project: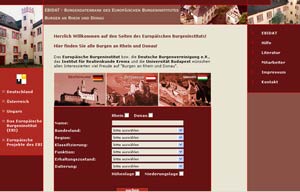 The database for the inventory of castles EBIDAT. The purpose of this 'central castles register' is not only to record still extant sites but if possible to record all sites for which evidence existed, in other words, those that have disappeared or for which the only evidence is historical sources. This involves the recording of the extensive historical, archaeological and architectural data sources using modern archiving techniques. These are mainly texts, plans and pictures.



Another Project is the Modern documentation and presentation of castles in:
Austria (Aggstein), Czech Republic (K?ivoklát), Germany (Marksburg) and Luxemburg (Vianden). --> for more information visit site www.burgmodelle.eu.

Castles, palaces and mansions, scientifically and touristically presented in the Upper Middle Rhine Valley, www.burgdirekt.de.
Scientific and tourist data on castles in Middle Rhein Valley . This portal has been developed by the EBI and the local authority association of Braubach with support from the Rhein-Lahn economic development agency, the Rhein-Lahn district authorities and the State of Rhineland-Palatinate to open up this extremely attractive castle region to tourism and promote it as a destination for all enthusiasts of historical castles and fortifications.
The Rhein-Lahn district counts almost forty castles and ruins all of which are deserving of a visit, from hidden gems to the well-known, indeed famous castles such as the 'Pfalz' in the Rhine and the 'Hostile Brothers' of Sterrenberg and Liebenstein or the Marksburg itself.
BurgDirekt is a unique way to link tourist information and technical castle data and use the internet at home to check tourism opportunities and plan personal castle tours through the region, including car-park searches, museum visits, restaurants and even accommodation. Interior views of the castles are available, tourist information such as opening times, guided tour opportunities and admission prices can be called up and maps and drawings can be used to plan routes for drivers, cyclists and walkers. BurgDirekt also offers accurate historical and architectural data on the castles and ruins in this region, part of the UNESCO World Heritage Site of the Upper Middle Rhine Valley. Chronicles, historical images and ground plans complete the picture.

BurgDirekt is currently being expanded to cover the Upper Middle Rhine Valley World Heritage Site.